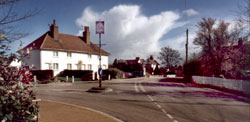 Swanley Village Film now on DVD
This film made in 1976-7 is a documentary including a tour through the village and interviews with the local characters in the village at that time.
Featuring the Lamb, lace making, church, racing car preparation for Brands Hatch etc.
It also covers the Silver Jubilee Party on the Glebe in 1977 and features shots of the village people
and children at St Pauls School (it could be you) in the egg & spoon and 3 legged races.
Previously on VHS, it has been made into a DVD now and is available for sale at £10.

Cheques to D.Molyneux, 2 Beechenlea Lane, Swanley Village, Kent BR8 7PR
Please add postage to UK 60p, unless you're collecting.
Please phone Dennis on 01322 669523 for a copy or email to dmolyneux@talktalk.net

Ideal as a Christmas Present
"Many thanks for the DVD.
We have really enjoyed watching it, I saw many familiar faces from my primary school days,
and I can be seen riding a pony with my cousin just for a second or two.
My sister was also in it and my Dad was seen bowling in the cricket match.
Its a great record to have of Swanley Village life in 1976/77.
Many thanks again. Sarah Mattocks"